Spar 20%
Hamlet
5/5
Basert på 1 kritikk
(Kritikk)
Bestilling inntil: Saturday 27 July 2019
Hamlet Beskrivelse
Join us this summer for an outdoor promenade performance of Shakespeare's Hamlet in the beautiful grounds of St Paul's Church in the heart of Covent Garden.
Amid the rubble of the old politics a populist King rose to power, promising a return to England's golden age. But now he is dead, murdered; and in the following bloodbath his brother has seized the throne.  
A masked figure has been seen, stalking the shadows. There is whisper of a resistance, gathering in the dark.
To be or not to be, that is the question - but can the nation's heir, Hamlet, find the answers?
Uphold the state; or join the rebels?
Be ready to choose in this thrilling contemporary production of Shakespeare's greatest play. 
London Theatre Reviews ★★★★ "This was certainly a hit and ticked all the right boxes."
Queerguru ★★★★★ "Welcome to Hamlet - Game of Thrones style!", As Hamlet says, if the purpose of theatre is to "hold a mirror up to nature" then this colourful, diverse and inclusive contemporary show does."
ActDrop ★★★★ "time actually sped by in a wholly satisfying evening that injects a dose of modern reality and relevance into Shakespeare's famous tragedy."
Iris Theatre Beliggenhet
St Paul's Church, Covent Garden, Bedford Stre, Covent Garden, WC2E 9ED GB (Mer info)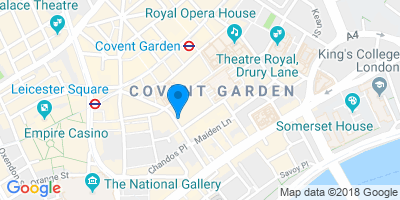 Veibeskrivelse
Aldersbegrensning
Age 8+ at parental discretion 
Viktig informasjon
Child Tickets - for under 16 years old.
Tid
Bilder
Billlige Hamlet billetter
Spar 20%
Var 179.99NOK Nå 143.99NOK
Valid on all performances until 27 Jul 2019.
Spar 20%
Var 239.49NOK Nå 191.99NOK
Valid on all performances until 27 Jul 2019.